Volume XII:
Caring for Our Mental Health with the Help of Books
Before we dive in, dear readers, we want to take a moment to say THANK YOU for supporting a year of newsletters. In order to better understand your interests, desires, and more for this newsletter, downloads, and other future content, we've created a short survey. Everyone who takes the survey by April 15 will be entered into a giveaway, with the chance to win a $25 gift card to Bookshop. 
Introduction
There's a lot happening in the world right now. But making time for ourselves, especially by way of reading, can help us rest, recoup, and ultimately keep our activism work going. 
[Please note: This issue contains references to current events, including the pandemic, Ukrainian-Russian war, anti LGBTQIA+ legislation, abortion, white supremacy, and more.]
Between the pandemic; wave of anti LGBTQIA+, abortion, and critical race theory legislation; Ukrainian-Russian war; and ever-present impacts of white supremacy at home and abroad (including what we saw during Judge Ketanji Brown Jackson's SCOTUS hearing), it feels like the world is in overdrive. Caring for our mental health is as important as ever, and thankfully, reading is one of the best ways to do so. 
The 2020 article by Janice Rhoshalle Littlejohn "Practicing Rest as Resistance" pulls from multiple scientific studies and rest experts about the critical need for rest, particularly for those who are fighting for social justice. "When we insist that the body must always perform; that the body must always produce—it's that logic that shaves time off our lives. It's important just on a biological level to understand rest is a part of what it means to be alive," says Prentis Hemphill, founder of The Embodiment Institute. Particularly for individuals from historically marginalized communities, rest is a form of social activism in itself—"rest disrupts and pushes back and allows space for healing, for invention, for us to be more human. It'll allow us to imagine this new world that we want, this new world that's liberated, that's full of justice, that's a foundation for us to really, truly live our lives," says Tricia Hersey, founder of the Nap Ministry. 
Studies have shown that reading can reduce stress up to 68%. Books can increase positive feelings about the self and external ongoings, and have been shown to aid depression. Not to mention that reading before bed is proven to help your body wind down and sleep better. 
There's also the benefit of increased emotional resonance and empathy. For example, when you read about a problematic issue, you're more likely to want to take action on it (theSkimm's recent Pop Cultured episode "Meming Through the War in Ukraine" also touched on this. Sharing memes is neither a sound nor advisable way to learn about or share information on a conflict—they can lead to bounds of misinformation and problematic depictions. However, this episode discusses research that has shown that people who read memes about an issue are more likely to take another step to combat that issue, such as sign a petition). Or, if you read about a certain character trait, you're more likely to understand how you might interact with that trait in real life. These might not immediately sound like mental health benefits, but definitely can decrease our stress levels by way of helping us feel more in control. 
All of this is to say that yeah, rest is extremely important. And as the world continues to spiral, we may be tempted to keep pushing forward. But taking a moment for ourselves, especially by way of reading, is critical. In this newsletter, we'll be diving into some of our recommended reads and other bookish ways to unwind. 
---
Conversations 
When we're seeking relaxation through reading, we want a bingeable book that we can't wait to pick up and dread to put down. Godshot by Chelsea Bieker is that in a nutshell, a book with a plot that grabbed Olivia from the jacket copy and has turned her into a Bieker fan for life (her second book, Heartbroke, comes out early next month). The story follows Lacey May, a fourteen year old growing up in a cult in Peaches, California. It interweaves feminism, spirituality, motherhood, misinformation, and much more. 
Have you read Godshot? What types of stories do you tend to turn to when hoping to decompress? 
Read more on the book and share any thoughts with us. 
---
Spotlighted Resources
What are some other bookish ways to find respite? 
We're big cafe lovers. Reading in them, drinking our favorite drinks, snacking on our favorite snacks, cafes are something we yearned to return to while at home during the pandemic (this recent tweet reminded us of why in part we love coffee shops so much). Fiona had the idea to put together an at-home cafe menu early on in the pandemic, and it's been a staple in our own households ever since. It's full of inspiration for ambiance settings, craveable reads, treats, and more. 
Another favorite way to decompress? On nice days, almost nothing feels better than taking a long walk to a favorite (or new and unexplored) bookstore. You'll have to convince us otherwise. Some of our favorite routes in cities we've explored include: 
San Francisco, CA: Walk along the Presidio until you get to Arguello, make a pit stop at Arsicault Bakery (the croissants!), and head right on Clement Street until you get to Green Apple Books. In a different part of the city? Walk along Valencia Street, make a pit stop at Tartine for a slice of their passion fruit bavarian cake (yup), Stonemill Matcha for a matcha latte (or Venga Empanadas if you're craving something savory), then to Dog-Eared Books, before making your way to Dolores Park to sit, people watch, and read. 

Los Angeles, CA: Walks in L.A. = longer walks. If you're in the Santa Monica area, walk along the water and head up to the Brentwood Country Mart for a pit stop in DIESEL Bookstore. If you want to make this long walk even longer, take the extra thirty minutes to check out Clark Street Bakery. Their monkey bread will not disappoint. For those staying closer to Downtown, head by Verve Coffee Roasters for your drink of choice and then spend hours browsing books, records, and art shops in The Last Bookstore. (Note: We also strongly recommend visiting Book Soup, Eso Won Books, Reparations Club, and The Salt Eaters in L.A.! If you have favorite walking routes to these stores, please drop them in the comments or send us a DM.) 

Portland, OR: You could spend all day in Powell's City of Books. They have over 1 million books. Recharge while you browse by getting a muffin and hot drink in the attached Guilder Cafe. Another hot spot? Continue straight on down W Burnside (crossing one of Portland's many bridges) and make a right onto 22nd Ave to visit Nationale, a bookstore and gallery. The minimalist shelves are so gorgeous that Fiona rebuilt them in her house. 

Brooklyn, NY: Like San Francisco, you have your pick of bookstores! But our favorite routes include swinging by Cafe con Libros before heading to Prospect Park or visiting Books Are Magic before grabbing a scoop at Malai Ice Cream. 

Austin, TX: Fiona spent months of the pandemic walking around her Austin neighborhood. Stop by BookWoman, which was started 45 years ago. With your new book in hand, enjoy strolling through the Austin neighboorhood, picking up some Japanese food at Asahi Imports, before making your way to Beverly S. Sheffield Northwest District Park to read by the pond. You'll see lots of Little Free Libraries on your walk, guaranteed.
To find other bookstores near you, check out this roundup of Black-owned bookstores to support, as well as this post on the importance of continuing to shop local. And let us know (via comments, DM, or email) your favorite bookstore walking routes—we'd love to feature them in an upcoming post. 
In need of more book recommendations? We rounded up our most-anticipated reads for this spring. We also are a sucker for anything Isabel Allende, have fallen in love with Honorée Fanonne Jeffers, and think these twenty-five books should be read by everyone. If you're particularly in the mood for audiobooks, check out some of our favorites. 
While we aren't huge "book to screen" followers, we've found ourselves reading many books–or watching many shows—that have been adapted lately. Inventing Anna (based on an article, based on real life, that also had a book adaptation) was the bingeable content we needed after a long day of work. (Honestly, if the Anna Delvey Foundation had been for readers, we can't say we wouldn't have been scammed.) Another one we can't wait to watch is Pachinko, which came out on AppleTV+ a few days ago. And, yes, at least one of us has binged the entire Bridgerton season already.
Finally, we know we're on social media too much. So why not make our feeds full of uplifting, inspirational, and informative content? Author Alex Elle always has wisdom to share; Bookstagram's @ReadKaylaRead's words are breathtaking; and @BookSnailMail, @BooksNextDoor_, and @TomesAndTextiles are just a few of the many people whose content we constantly go back to. 
If there's an issue you are passionate about that we haven't discussed, send us an email or DM—we'd love to collaborate with you on a spotlight. 
---
Free Downloads
There's no denying that humor not only gives our brains a break, but also can help spread joy to others. In that vein, what better way to help us rest than to reminisce on our reading in public mishaps?  
We've created a suite of new phone backgrounds based on our latest Reading in Public Woes post.
Just head to this page and use the password TimeToRest to download.
---
Sunday Funnies
Alternative caption: Cracking spines and staying in bed 😉
---
Collected Words
We've been gathering a number of stories on our site, and their reception has been amazing. We're ever so grateful for the folks who've entrusted us to provide feedback on and share their pieces with the world.
One of those writers (and friends!) has recently been published in Dead Skunk. Go check out Swati's story: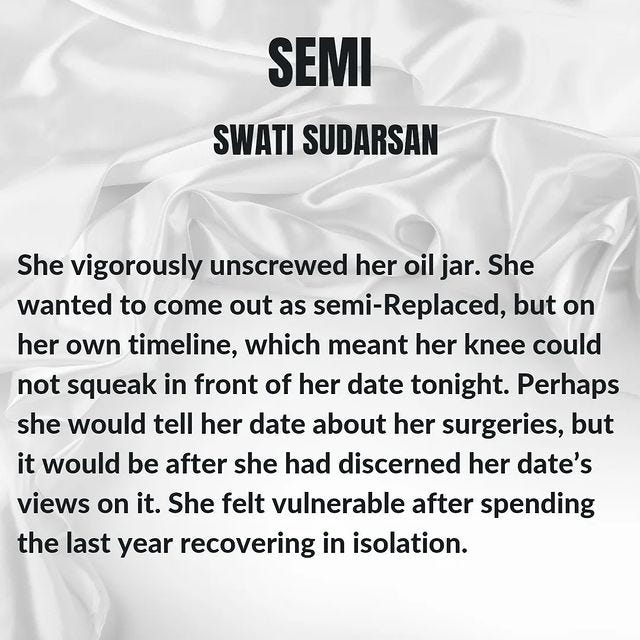 And if you've yet to fall on the @ReadKaylaRead bandwagon, go read Death and Breadsticks:
We are looking for short (~150 words) writing submissions on any topic, as long as they are rooted in and/or guided by an intersectional feminist lens. 
Each published writer will receive their choice of one of the following: 
$25.00 

$25.00 gift card to bookstore of choice 

$25.00 donation to organization of choice 
More info can be found here. Feel free to email or DM us on Instagram with any questions.
---
Final Musings
We hope that this newsletter has helped either inspire you to take some time to recoup, or helped you discover new ways to decompress. And, when you're rested and ready to act, here are some actions you can consider taking: 
Feel free to leave in the comments other organizations to support. And don't forget to take our survey by April 15 for the chance to win $25 to Bookshop. As always, thanks so much for reading. If you have any thoughts, questions, or concerns, be sure to get in touch. 
Xx, 
Olivia and Fiona